Private Monumental Seville Walking Tour
Europe » Spain » Andalucia and Costa del Sol » Seville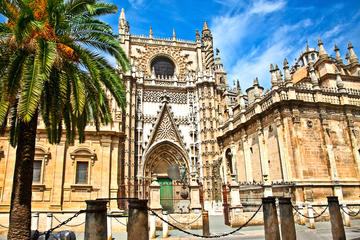 (5.0)
Duration: 3 hours
Departs: Seville, Spain
Price from USD 29.22
Book Now
Discover Seville's most spectacular monuments — Seville Cathedral, the Giralda tower and the Royal Alcazar — on this intimate 3-hour walking tour with a private guide. Stand in awe of the world's largest cathedral, containing the tomb of Christopher Columbus, and admire the jaw-dropping Moorish architecture of the Royal Alcazar, today the palace of Spanish kings. End with a picturesque walk through Santa Cruz, Seville's whitewashed, cobblestoned Jewish quarter. Enjoy personalized attention and informative commentary from your knowledgable guide.
Meet your private guide under the Giralda tower of Seville Cathedral to begin your 3-hour morning or afternoon tour. This bell tower was an Arabic minaret of the mosque that stood on the site under Muslim rule, and was built to resemble the minaret of the Koutoubia Mosque in Marrakech, Morocco. It was converted into a bell tower for the cathedral after the Reconquista of 1248, and today this magnificent structure is a symbol of Seville, dominating the city skyline.
Prepare to be amazed as you step inside sky-scraping Seville Cathedral (Catedral de Sevilla), a UNESCO World Heritage site. The church was built to demonstrate the city's
wealth after becoming a major trading center in the years after the Reconquista. Today it remains the largest cathedral in the world.
Learn about the cathedral's history and construction and admire biblical artworks, sculptures and the altarpiece — the lifetime work of a single craftsman, Pierre Dancart. Look up at the lavishly gilded central nave, rising a dizzying 138 feet (42 meters), and pause at the tomb of Christopher Columbus to discover why he is buried here. Exit through the outdoor courtyard blossoming with bright orange trees — the symbol of Seville.
Make your way next to the Royal Alcazar, Seville's crown jewel and another UNESCO World Heritage site. Originally a Moorish fortress, the Royal Alcazar was an Arabic palace in the 14th century and today serves as the residence of the Spanish kings. It is the oldest still-inhabited royal palace in the world.
See why many consider this Spain's most beautiful palace on a guided walking tour. The Moorish architecture and décor are breathtaking, not to mention the extensive gardens surrounding the palace.
End your tour with a pleasant stroll through Santa Cruz, Seville's historical Jewish quarter. With narrow cobbled streets winding among white-washed buildings, this is inarguably the most picturesque area of the city. Chat with your guide and ask any questions you have about Seville before ending your 3-hour tour here.
« All Activities