Private Tour: Alhambra and Generalife
Europe » Spain » Andalucia and Costa del Sol » Granada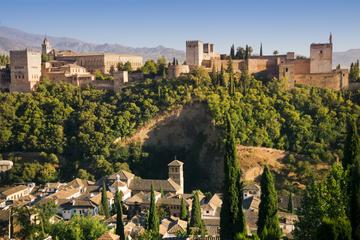 (5.0)
Duration: 2 hours 30 minutes
Departs: Granada, Spain
Price from USD 64.72
Book Now
Skip past the Alhambra's long entrance lines with your private guide and explore this incredible palace complex! Including priority access, this private tour ensures you'll see the best of Granada's premier UNESCO World Heritage Site with ease. Tour all the must-visit Alhambra highlights like Alcazaba Fortress, the Nasrid Palaces and Generalife Gardens, while learning about its Moorish history.
Visit the Alhambra – Granada's most famous monument – with your friendly private guide. Skip past the long entrance lines with your priority access ticket and head straight inside to start your tour.

The UNESCO-listed palace complex is thought to have originated as a fortress in the 9th century, and then expanded with opulent palaces, vast courtyards and lavish gardens added during the following centuries. Learn all the Alhambra's intriguing history from your guide while exploring its delights, hearing tales and trivia about the Moorish Kings and sultans who once called the place their home.

Visit Alcazaba Fortress (the complex's oldest part) and see Torre de la Vela – the tower that is most associated with Alhambra. Views from here are spectacular and on clear days you can easily pick out parts of Granada like Mirador de San Nicolas.

Walk through the Alhambra's most important halls and courtyards including the Nasrid Palaces, Myrtle Courtyard (Patio de los Arrayanes), and the Ambassador's Hall (Salon de Embajadores). Admire the contrasting Renaissance architecture of the Palace of Charles V with the rest of Alhambra's rich Moorish architecture and décor, and take a peek at the Royal Baths.

Before your tour ends, your private guide will show you around Generalife Gardens, where the Spanish rulers of bygone days went to relax. Stroll through two of its beautiful courtyards – Patio de la Acequia and Patio de la Sultana – and admire the decadent flower beds and colorful plants that comprise these spectacular gardens. At the end of your tour, your private guide will drop you back at the original departure point.

Advance bookings are strongly recommended, as access to the Alhambra is strictly limited to a certain number of visitors each day.
« All Activities